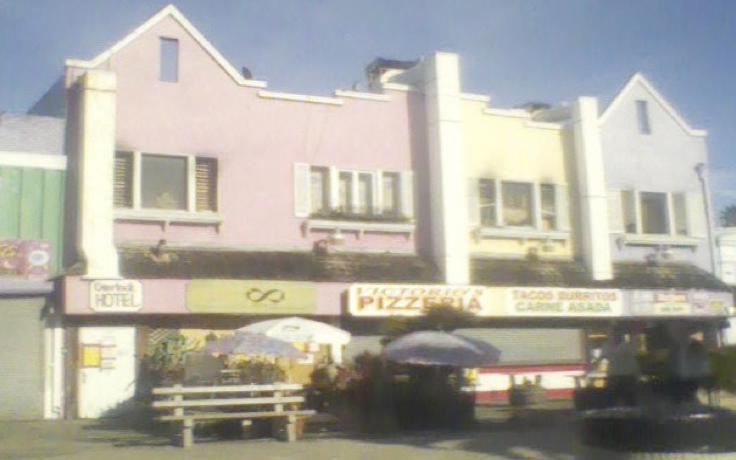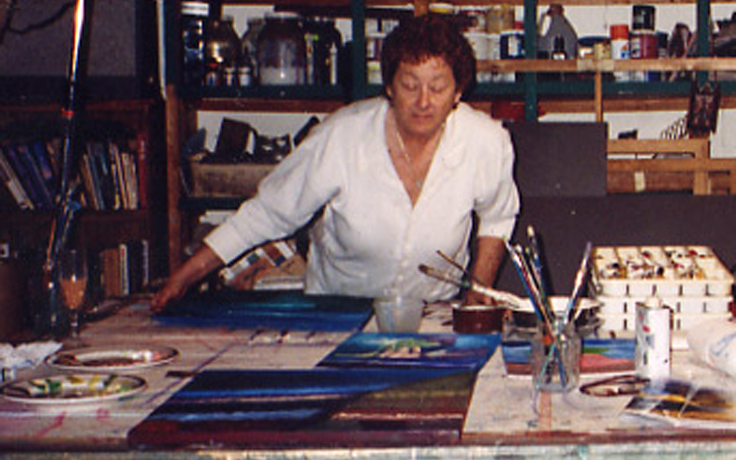 Infinity Studio opened in 1977 and more than four decades later, into 2021, Susan was still a working artist - after all this time because she loved painting. Sadly, in the spring of '21 Susan died in her sleep, quietly, and peacefully. Things had changed with the loss of the original studio space but for five years we all kept it going. Infinity Studio is still here in Santa Monica, not far from the beach. Susan's work is still displayed on the walls of the new space and enjoyed every day. May this and the associated web sites and the art work featured therein stand as a legacy to Susan's love of art, painting in perticular, and her philosophy which included her watchword: painting for health. She will be missed but as long as we remember her she will in some way remain with us.
Infinity Studio, as it was for over forty years, lives on in these and other pages which document what was actually Susan's biggest art installation. Every object and decorration in Infinity Studip was specifically placed to give an impression and make a statement. Those who lived and worked with Susan felt it every time they entered the studio. The ecclectic feel and the look of all the interesting things, which counterpointed and showed off her work, were noticed by others, some of whom believed this was an excellent location for photo shoots. Once a social media company contracted to photograph their models in the studio. Many film crews asked to photograph the front garden of the studio, which was also an art installation.
There was always so much going on at Infinity Studio. Susan and all the others loved it. It was sad when the landlord ended all of that, but the spirit lives on as will our memory of Susan and the amazing work she produced.
The retrospective exhibition of Susan's Venice and Santa Monica watercolors, as part of the 2018 Venice Art Crawl, was a success. The show opened on March 15, 2018 and the response was encouraging. The show was hosted by Small World Books & Sidewalk Cafe in Venice. This is where Susan first showed them in 1979, just a few years after Bob and Mary Goodfader opened the book store. To kick off this event there had been a number of gatherings of artists, art lovers and other interested people. On January 18, 2018 one of these mixers was held in a sushi restaurant & bar on Windward Circle. It was packed. We were like sardines in a can but we had a good time eating and drinking, meeting and making friends while reminiscing about Venice and talking about the upcoming event A Retrospective - How It Was Then, How It Is Now.
The show ran until May 17, 2018. If you were able to come see it in person we are glad and thank you. On opening night we not only showed the watercolors but there were other interesting presentations. We want to show you that even though things change other things stay the same. Even if something, a place, or a person, it could be anything, looks unrecognizable all you have to do is look at it in a certain way and suddenly you'll see it. In some subtle or stark way things are really the same. What has changed is the presentation. If you came to see our presentation of How it Was Then and How It Is Now along with the rest of the 2018 Venice Art Walk we know you enjoyed it because of all the positive comments and news paper coverage. Although the show is over you can still enjoy the artwork and the slide show which can be seen on the retrospective web site.
Susan was working with her good friend and fellow artist Bernard Hoyes to arrange for a show in 2020. He is so busy and so was Susan with various projects. Therefore we were not able to arrange a show but there is still so much to do in showing Susan's work. If you are one who has one of her works hanging on your wall you know that seeing it in person is so different than online because of the texture Susan often employed. If you are interested in aquiring some artwork please feel free to contact us directly at (310) 392-5042 or infinitystudio@aol.com.
You can see how things have changed but how in some way they stayed the same in our Historic Watercolors Slide Show which is part of the Retrospective Show web site.

Susan's Water Lily / Waterfall paintings gallery represents the kind of work she has been doing since Infinity Studio had to relocate in 2016. All this work and excitement just goes to show that even though some things change other things stay the same. Yes, some things have changed and it is very sad but Susan was still a working artist even though Infinity Studio had to move. Sadly we lost our prized location next to the Santa Monica Pier. There was no way to stay there even though we all hoped to make it to our forty year anniversary in the same location just as Small World Books did. Well, we came close. Thirty eight years is not bad.
It was in 2016 that Infinity Studio was forced to permenantly close our ocean front location and we moved to downtown Santa Monica, less than a mile away. Since then Susan had done some very amazing work. Susan's other paintings web site showcases some of her newer work. If you wish to visit those pages please do so but be sure to return to Infinity Studio, there is so much to see here. You will also learn about Susan, her philosophy and what drove her to produce such amazing artwork.
We appreciate everything you art lovers do to support the arts. As you may know we not only display on this web site the work of Susan Weinberg but we also showcased new and exciting artists from time to time who have worked and studied with Susan.
Since the relocation Susan continued to work on what has turned out to be a very nice series of Water Lily / Waterfall paintings which you may have seen above in the slide show. We did a number of field trips to gather plants and flowers and take photographs. She used these as inspiration for these flower compositions. Up until we were locked out, because of the December 12, 2015 fire upstairs, they were being shown in the front of the Studio space and those who viewed them enjoyed them a lot. Susan had also produced a large body of smaller work on the same theme. She had produced some work on single canvas while others are multi part cascaded work. Look for them here in the near future. Of course Susan not only painted but she continued to teach into her 80s.
The project that Susan started many years ago - a leather restorative that is truly amazing - is no longer available. She used it from time to time when she was restoring a piece of furnature, a textile hanging, or a bag. It made discontinuities, aging, and cracks disappear.
She developed this product while designing her paints for decorative work. It uses the same technology and method (chemicals / pigments / binders etc) as she developed for her Hand Painted Fabric. Actually from the beginning it worked on leather as well as textiles and even wicker work and wood. Susan had modified the formulation so that it could also be applied to worn, cracked and faded leather. It gave a new life to worn-out leather furniture, bags, jackets and such. Unlike a regular leather paint, that simply covers and colors, this product rejuvenated and restored. As part of Susan's legacy we may soon post here some examples of before and after simples of her "brushed on application" of that product.
We will try to feature other significant events on this site which you may be interested in seeing. So come back from time to time.

Introducing Susan Weinberg - Artist

Susan Weinberg was a classically trained artist who combined her background in the fine arts with her knowledge of chemistry to produce amazing works of art in unusual mediums.
Her watercolors have a traditional look. In reality they are much more than a look at daily life at the beach. They document a simpler, more eclectic time in the history of the Santa Monica - Boardwalk / Pleasure Pier and "The Venice of California". The technique she developed for painting them is still used by her students more than forty years later.
Click on any image to enlarge it, read a description and enjoy the slide show
| | | | |
| --- | --- | --- | --- |
| Georgian | Carousel | Moby's Dock | After The Storm |
She pioneered a technique to produce hand painted fabric that has a three dimensional quality, is soft and supple yet resists staining and is durable as can be seen in these examples.
| | | | |
| --- | --- | --- | --- |
| Chairs Marbleized | Chair and Stripe | Chair & Stripe Detail | Fabric Bag |
Susan paints in oil and acrylics and achieves a unique look through her use of metallic elements and organic and mineral compounds. Photographs just do not do them justice but you will find it stimulating to examine them anyway.
| | | | |
| --- | --- | --- | --- |
| Waterfall | We All Stand Alone | Copper Abstraction | Cascade |
Susan invited you to "Please enjoy my work. I always did commissions so that you could get exactly what you wanted. In the days when we were painting fabric, very often we would use the same color scheme and design and do screens, murals, or paintings to go along with the fabric. Additionally I did commissioned portraits and scenes where you could place yourself in the picture." (As an example see "Tad and Laura" in watercolors)
In addition to original works of art, Susan had thirty of her watercolors available as giclee prints. It is possible to re-create any painting in giclee print form on any material from canvas and paper to metal, plastics and wood and to any size you desire. So, for example, in commercial use in hotel rooms Susan could take an idea or two and create work in different colors, sizes, materials, etc., so that suites of rooms could have individualized art on the walls. Homes have their own special needs.

Susan always looked forward to working with you. Her motto was: "What can be conceived can be achieved."
If you like what Susan has accomplished please call and discuss your painting and design needs at (310) 392-5042 or E-mail.

Artist's Profile and Studio Location
For thirty eight years Infinity Studio was located next to the famous Santa Monica pleasure pier in beautiful Southern California. This scenic location provided inspiration for Susan and her students. One of Susan's loves was teaching in the studio, along the ocean front boardwalk (that runs right past the front door), on the beach and at various scenic locations nearby.
Susan Weinberg was one of the founders of the Association of Venice Artists (AVA), which established the first Venice Art Walk in 1978. In 1979 a short film, available on YouTube (in two parts) and also from the New York Times Movie site, titled "Susan Weinberg - Artist" was made that highlights her work and outlook. As of 2010 Susan is the only professional artist who has been able to remain on the beach front. As Vice-President of Artists for Economic Action in Los Angeles, Susan was able to orchestrate many art project, had been on Grant committees and had juried many art shows. During her seminar at the University of California Santa Barbara, Susan demonstrated her color mixing techniques then evolved the seminar into a workshop. A great many of her students have become successful in the art field.
Her Hand-Painted Fabrics have appeared in 35 different designer showrooms across the country, from Beverly Hills to Miami, and have been installed in the best hotels, clubs, homes, banks, yachts, airplanes and more. She has produced various Murals along the beach front. Susan's clients have included Carnival Cruise Line, Executive Aircraft, Home Box Office (HBO), The Smithsonian Institute, Aaron Spelling and George Lucas.
She attended Northwestern University and the University of Wisconsin, receiving a B.S. in Science, Home Economics / Education; and a Bachelors and Masters of Fine Arts degree in Painting and Sculpture from Otis Art Institute, Los Angeles, California. "After completing my studies I began traveling my own path. To me art is not just a thing you do, it is an extension of your life, your vision" Susan explained. She continued "I have a love affair with paint, and developed ways of mixing paints with various ingredients. I can control my paint so that it is soft to the touch for fabric and clothing, firm for canvases and wall pieces, glowing with iridescence and luminescence, and I can control the bleed of paint into paint on wet surfaces." The scientist in Susan had caused her to constantly experiment. Susan's "Marbleized" fabric put her on the map with her novel painting technique. She developed a technique, now used by many artists - many of whom she had taught, to project images on all kinds of mediums to create true to life but not photo realistic paintings and watercolors. Susan was not only interested in image or subject matter, but sometimes more in what paint does: how it moves, how it separates on the paper or fabric; how paints move into each other when wet. According to Susan: "An artist shouldn't be afraid to experiment and make mistakes. Sometimes by putting two mistakes together you create something new."

In memory of Susan Weinberg we welcome you to Infinity Studio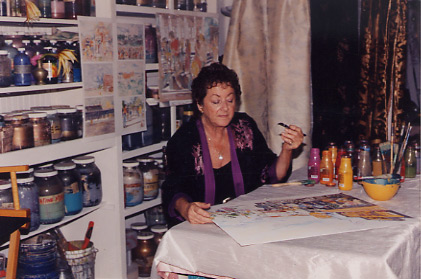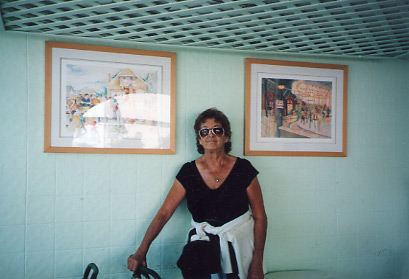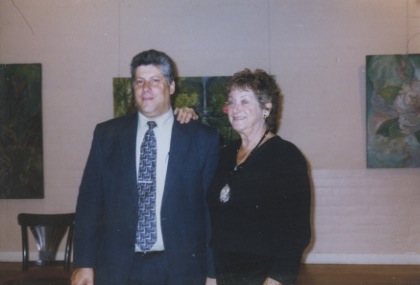 Please feel free to enter our online galleries and work shops. There is also a new slide show of photographs of our neighborhood, as it is today, which was part of the production process of what was to be a new series of watercolors.
Contact us if you are interested in purchasing a work. As to be expected we are no longer taking students. One project Susan had been working on for some years is called "Painting For Health". You can read about this and other projects, that were quite exciting, in these pages. Over time many more works that Susan produced over a fourty year carrer will be posted here so check out Infinity Studio at www.susanweinberg.com often and keep her legacy alive as we all warmly remember her and all she did that touched the lives of so many.