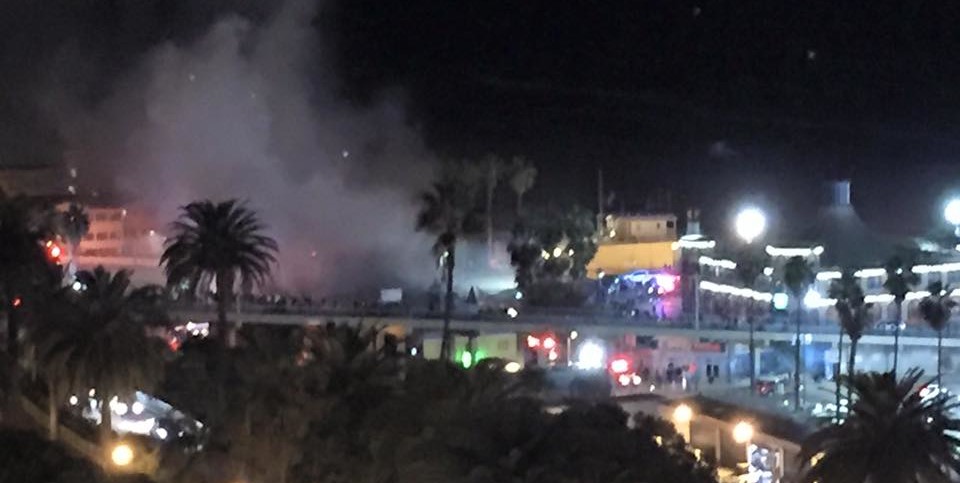 Many of you may not know what happened the night of December 12, 2015 that caused Infinity Studio to move to a new location less than a mile away in Santa Monica. The following account was written, just after the incident, for Studio staff and supporters. Now that the 5 year Ellis moritorium on re-renting the property as residences has passed we can make this page publicly available for historical purposes. As you read it please remember that we were trying to generate support among those who had some connection to Infinity Studio in order to help move the matter along to a reasonable resolution. Learn from this "look back" and let it demonstrate that if it had not been for Susan's love of producing wonderful art, the support of family, staff, friends, and former artists in residence she would not have been able to continue. Instead of being destroyed Susan, after a period of convalescence, carried on with her Water Lily project. The work turned out amazingly good. As you read this 'history from our point of view' please take a lesson in resilience from what happened to Susan and the others on the boardwalk by the beach.

ACCOUNT OF THE DECEMBER 12, 2015 FIRE AND IT'S AFTERMATH:

Tourists took photos and videos, and news crews arrived and departed. As far as we know none of the twenty one of us were interviewed but we do have some story to tell. The now homeless residents gathered outside, some to be treated by paramedics while others gathered at the police station for a head count and to receive aid from the Red Cross. It is a sad commentary on landlord / tenant relations to find that no aid of any kind or even condolence was offered by the landlord. He seemed to be there only to look after his own interests. These include all the buildings on the boardwalk in front of the merry-go-round. Judging by his behavior and that of his lawyer these last two weeks after the fire he wants to make sure the building stays closed and that the residents are dispersed to the four winds, maybe never be seen again. All this happened before sunrise on Sunday December 13. Susan and others had to sleep in their vehicles or wherever they could find a place. It is difficult enough to find an affordable hotel room in Santa Monica in the off season but right before the holidays it gets more and more difficult. Susan was able to get a very small hotel room with the help of some friends since the landlord was not offering any help at all. This was only the beginning of an odyssey unimagined by any of the tenants.

Neither the space nor it's contents or any of Susan's art work was damaged by the fire, and the water that came down from upstairs only damaged a few pieces, some equipment, and some furnishings. The water is gone now and the Studio has dried out. Please understand that the building has been "yellow tagged" not "red tagged" which means that it is not condemned and could be made fit for re-habitation. The landlord has not turned on the electricity or the water to the bathroom or replaced less than fifteen square feet of dry wall ceiling that got water soaked and fell down. More importantly he refuses to have the building inspected for structural integrity even though he ultimately has to do so in order to commence with his plans to build commercial rental space. Even so he is ready "to knock out walls" and the architecture firm continues it's attempts 'to remove Susan's possessions' from the Studio and bill her for the storage and such. Susan paid rent and is still a tenant but you would not know it by the behavior of the landlord and his agents.

Please understand, the landlord has big plans for the Studio space and the businesses on both sides of us. The Carousel Cafe and Gift Shop has been there for many decades but the landlord has plans to put in a Starbucks. It was expected to open in March but twice the Architectural Review Board dismissed their concept plans. Other commercial tenants have also been told to vacate to make way for Big Dean's to expand. Big Dean's Bar takes precedence since the landlord owns it and it is thought to possibly be a real money maker, bringing in perhaps tens of thousands of dollars on a good televised game night. He put a lot of money into Big Dean's when he purchased it some years ago. Perhaps this explains why he and his lawyer are so interested in using the fire in an upstairs apartment that did not infact "destroy" the building as an excuse to break the tenancies of all the displaced residents. They have refused our rent and have stated in writing that all of us are no longer tenants, contrary to the law. His lawyer called us ex-residents as if the closure ended our tenancy and he questioned the law regarding relocation assistance in a late night Christmas Eve e-mail. The landlord can not seem to wait to be free of any responsibilities to his tenants. He may only see dollar signs now that the obstacle that he called "those old people" has, according to him been removed so that "there are no more tenants" in his building.

Actually, because the landlord asked for December rent before the fire and Susan continues to pay rent it she has not abandoned her rental space or property. She is by law still a tenant. We still garden and take care of the front patio and rake leaves in the back and pick up trash left by tourists because even though we are locked out of the Studio we are still tenants. Even though the landlord will not repair the fairly insignificant ceiling damage to the Studio we are still tenants. Even though he no longer wants to rent his property to residents and refuses to accept rent we are still tenants. We even purchased next years parking permits from the city because we have in no way given up our tenancy or our rights. Clearly we do not need to abandon Infinity Studio just because someone bullies us. The landlord may think it would be easy to get an 82 year old woman to give up, go away and die or something. She does not have to give up or give in or go away, the law says so. She can take a year to find a new live / work space and to move her art work, equipment, and property there - carefully over time. Well, the law apparently means something different to the landlord and his lawyer.

One could be forgiven for expecting that the laws administered by the Santa Monica Rent Control Board, that govern the rights of tenants in matters like this, would be followed. Sometimes the Rent Control Board finds themselves in a tight spot and that may make justice difficult to achieve. The intepretation of the letter of the law is such a difficulty. The closure of Infinity Studio could be resolved quickly if the landlord and his lawyer were willing to recognize the intent of the law. Actually the lawyer Rosario Perry is a well known opponent of the Rent Control Board who has experience dragging out legalities and outlasting or out spending tenants. As an example of his methods - in 2005 Mr Perry was involved in the Teriton Apartments scheme effecting 28-units and the many senior citizens living there. Some people who have had to deal with Mr. Perry, according to published accounts, believe that he was then and has been now very 'creative in applying the law' in his efforts to assist landlords. He uses small legal points that may fly in the face of the spirit of the law to tie the hands of the legal system. He even resorts to the threat of bring suit and other methods of intimidation to succeed in his efforts to empower landlords and overpower tenants. He even tried multiple times to intimidate or cajole Susan and her family into relinquishing her tenancy. The difference in this case is that the law is clear in the Çities reading and the City is calling for the law to be followed. It is expected that in time the law will catch up with the landlord and his agents and if they do not make suitable arrangements soon the damages to them could be greater than they imagine. Still they persist in thumbing their nose at the law.

People have been heard to say that "this fire was the best thing that ever happened to Mink". Well, time will tell. They are referring to the brothers Terry and Marty Mink who own the property on Ocean Front Walk which includes Infinity Studio, residences, businesses (such as the Carosel Cafe that is expected to become a Starbucks - the owner having been effectivly pushed out) and Big Dean's Ocean Front Cafe. Just to be clear, the night of the fire we who were effected bt the event saw in Mr Mink absolutely no interest in the safety, health or well being of twenty people who were made homeless through no fault of their own. If anyone is at fault it is the landlord because for many years he has neglected his responsibilities, as has his on-site manager Rebecca Rakes, to keep the building safe and the tenants secure in their habitation of his property. It was therefore not really surprising that the night of the fire he said to Susan and others "I can not do anything to help you" and in fact he did nothing for ten days while the displaced residents were forced to sleep in their vehicles or perhaps under the pier. Some were sleeping on the hard bare flood at a friend's apartment nearby for $25 a night. It was only because of the Red Cross that any help was provided. Sadly, the money they provided, while very helpful, did not last long - maybe two or three nights. For the next week people were on their own.

Even though infinity Studio is now boarded up Susan retains her tenancy and will fight the "after the fact" Ellising (request for removal from the rental market) of the building that housed Infinity Studio for 38 years. Because Susan has her camera and painting book she is able to still be productive. So for the time being we are still the last working Artist's Studio on the Boardwalk of Venice and Santa Monica, by the sea in sunny Southern California, at least on-line and in these pages. If you would like to help us reopen Infinity Studio please contact the City of Santa Monica and tell them so. By e-mailing comments of support to the various city departments, in order to generate some positive forward movement in resolving this whole matter, and what a matter to have to be dealing with during the holidays.

Susan wonders: "How could anyone do this to me and the twenty others right before Christmas? How inhumane and cruel does someone have to be to use a disaster to his own benefit? I do not see how you could characterize his allowing old people to have to fend for themselves in the rain and cold as anything other than inhumane, monstrous and callous. I had to sleep in my drafty cold vehicle during the heavy rain that weekend. I am glad my son was able to get blankets from the back patio, otherwise I do not know how I would have survived. In my mind Scrooge has nothing on my landlord. I helped him for so many years. I looked after his interests. In 1977 when I moved in next to the historic but old pier the building was dilapidated and filthy. The neighborhood was run down and regular people did not want to rent there. Artists are not regular people. Artists have vision. They see what could be. When Artists moved into Venice three miles away they improved the area and in due corse we Artists were pushed out. I understand that this always happens to artist colonies. I and others worked to better the neighborhood around the Santa Monica pier. I and the artists before me brought stability. The building had been a bar, pool room and brothel where violence was common with gangs fights in the parking lot. The landlord needed stability so he put artists right into the middle of all of this chaos and so the Studio was born. The artists before me put in the bedroom lofts and I had windows installed and made other improvements and I planted a garden. The neighborhood needed this restoration because after many fires at the Pacific Ocean Park pier, a mile away on Ocean Park Blvd, was finally allowed to burn down completely in the early seventies. Then in 1983, after many buildings in Santa Monica had been damaged by the Northridge earthquake, a big storm destroyed major sections of the Santa Monica pier. There was talk by City officials of demolishing the pier completely. There was public outcry and the activity at Infinity Studio along with work of other artists, residents, and concerned Santa Monicans the pier was not only saved but has become a real money making business. With all the plans of the City for the neighborhood it is not surprising to me that for fifteen years the landlord had wanted me and the others out. The money is just too enticing I guess but to treat people this way just for money is so wrong, so Scrooge-like during the holidays."

Maybe the unreformed Ebenezer Scrooge would understand the landlord's behavior. Perhaps with your help and support our Mr. Scrooge will be reformed just as the character Charles Dickens made the embodiment of callous, selfish disregard for others was reformed. After clearly seeing the reality of his situation and realizing that like anyone else he would die and knowing how he would be remembered Scrooge reformed his attitude and his behavior. Everything changed for him after that for the better. His health improved. He was happy to be alive. He was loved by others instead of being despised. He made a real difference in the lives of people worse off then he was and they no longer rejoiced over the idea of his demise. When he died he would be missed because he made the world a little better. In the story you could say he lived happily ever after.

Will our Mr. Scrooge be despised or loved? Will he die of health problems as a selfish man who put old people out on the street in the cold right before Christmas? Will he become a real human that people can respect? We sure hope so, for our sake sure, but also for his own sake and for his family. We wonder how he can behave as he has toward Susan who has enriched his property with beauty and stability and his pocket with hundreds of thousands of dollars over thirty eight years. For that price she could have bought the building but as it is she has no equity in the property. The landlord still owns the building and the land it sits on, which some estimate to be worth millions but is assessed at a much lower value but still a lot of money. How much? It is not clear but according to public records as a residential / commercial property that has not been appreciably modified or reconstructed its value is calculated by taking it's assessed market value in 1975-6, a year before Susan moved in, and adjusting for inflation by no more than 2% per year which gives a 2014/15 value of only $227,288. Please note that once it is reconstructed it will be assessed at current market value which could be in the millions. Take as an example the apartment building a hundred yards away on the corner of Seaside Terrace at 1647 Ocean Front Walk which is being reconstructed. In 2014/15 it is valued at $6,150,000. So with some reconstruction the value of a property on the Boardwalk can increase by a factor of forty, in excess of six million dollars. So this gives some indication of how much the building that houses the Studio could be worth if reconstructed. The fire may therefore be seen as a fortuitous event for the landlord if not for Susan or the other tenants. We know what the landlord has, so what has Susan got? Nothing but the contents of Infinity Studio - her artwork, equipment, supplies, along with her furnishings, and personal property. And to think - the landlord Mr. Mink and his lawyer Rosario Perry would put all of this on the curb, so to speak, as abandoned property. Susan has abandoned nothing. The rent is paid. She is simply locked out because Mr. Scrooge wants it that way. Sad, really!

The landlord has the right of course to make money on his property or take it off the rental market as he pleases. One may assume that he has not done so up until now for business reasons. All Susan wanted from him was a straight forward discussion of his plans and desires for the property. Susan just wants to paint, teach, create beauty and Infinity Studio gave her that opportunity. If the landlord thought that with all the development around the pier he needed to get more out of his property all he had to do was calmly and openly discuss it with Susan. Keeping the building in poor shape in various ways and seeming to be waiting for an opportunity, such as the fire has afforded him, is deplorable if not underhanded. Would he keep Big Dean's in this condition? He did not. He put a lot of money into the Bar and is appairently making a lot from it. What would his patrons think if they knew about the Bar owner's dealings during the holidays? Perhaps we will find out. Has anyone told them? We hear that a citizens group is planning to do so. What do you think? Should someone tell them? That could burst their bubble. They have such a good time at the Bar and Grill, after all Big Dean's is a happening place. Infinity Studio used to be that way with the shows we had and the art openings we hosted. You can see some of these in the pages of this site. Maybe things will change and you will be able to visit Infinity Studio next time you are at the Pier. Time will tell and so will your support.