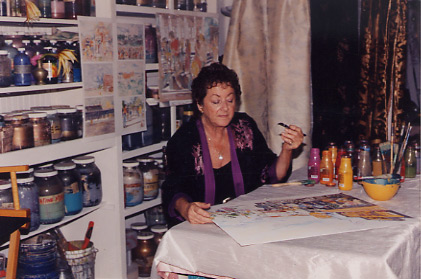 Because of the Great Recession and now the COVID-19 pandemic the outdoor "Plein Aire" painting classes are no longer being sponsored by Emeritus College. Before the current crisis the classes were being held on an informal basis. Susan is currently not taking students. Depending on how things develope she may take students privately or possibly in small groups. If and when circumstances allow for it, a notice will be posted here.
Susan was offering an 8-week course at Infinity Studio, one and a half hours each, designed to introduce the artist to different ways of thinking about using materials especially paint and other pourable and spreadable materials, combined with thinners and other liquids, and objects of all kinds in order to construct paintings of more interest than simple one media materials.


The class curriculum was described like this:

Class #1 is an introduction to the studio, materials and where they are located. Brushes and implements of all types, old and new. Paints of all kinds. Chemicals, varnishes, thinners, etc., papers and other supports. Discussion of my theory of paint mixing, demo, some hands-on mixing and application. Students are instructed to bring two pieces of work to the next session ñ one they love, one they hate.


Class #2 is an introduction to paint mixing and my theories and practices concerning making materials interesting. Mixing one color per student, using any of the materials available on the table - use of that paint on one back ground in as many ways as possible.


Class #3 is all about painting with unusual materials which will demonstrate what some of these mixes can do. Show and tell: various paintings using different techniques. Discussion of unusual techniques. Homework ñ create an original painting using some unusual technique and bring to next class.


Class #4 is painting with unusual tools, a demonstration of tools that can be using in conjunction with and instead of regular brushes, altering of brushes, combining of tools. Stencil cutting and foam cutting introduction. Homework - create a number of tools made of unusual materials and bring to class - do not use them at home at all ñ be surprised at what can do.


Class #5 is about using unusual tools. Work with each one you brought, and create a small piece with them. Mix and match with other students and create a small piece. Homework - create a piece with your tools and three colors that you mix up yourself and bring to class


Class #6 concerns ideas and subject matter. I will demonstrate my ways of working with material to evoke images that I can relate to, and that I can work with what affects me when I am painting - music, colors, clothes, my thoughts, my problems, smells, sights - my theories and some demonstration on how I use materials to give me a Rorschach image that has meaning to me - rhythms I use with my arms and body - organic look that I am working toward - how much structure I want to give a painting, structure over and under flowing paint. Homework - create a piece at home that you can bring to class and work with.


Class #7 the construction and deconstruction of a painting. Create a painting using some of the techniques learned in this class. Then destroy it in some kind of way. Recreate it in some different kind of way that speaks to you. Homework - take an old piece of work of your own and recreate it in some new way.


Class #8 is a show and tell. Discussion of what you were trying to do with the last few pieces. Journal writing concerning your thoughts on anything, short and to the point, not more than two pages. Show and tell of any new or unusual, personal items you discovered during the past seven weeks.

Many people are visiting world renowned Santa Monica and the harbor pleasure pier. Any who are interested in studying under or working with Susan are invited to sign up for one or more private sessions. Larger group classes will be arranged based on the interest shown and according to what can be arranged as to location. Private instruction can be modeled on this format or adjusted as required. To a limited extent personalized instruction may be available.
Please contact us for scheduling information.